Better Nature (eBook)
Jump to navigation
Jump to search
Better Nature



Better Nature Revised Book Cover, written by Elizabeth Sharp

Author(s)
Elizabeth Sharp
Series
Forces of Nature
Publisher
Smashwords
Amazon Digital Services
Publication date
May 28, 2013
Media type
eBook
Paperback
Length
276 Pages
ISBN
9781301679942
ASIN
B00CTPQ47C
Preceded by
Second Nature
For other uses of the word Succubus, see Succubus (disambiguation).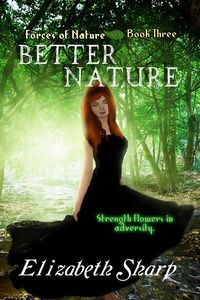 Better Nature is an eBook written by Elizabeth Sharp. It is the third work in the Forces of Nature series by this author. In this work, the character Sariah is a Succubus.
Overview
Title: Better Nature
Author: Elizabeth Sharp
Published By: Smashwords & Amazon Digital Services
Length: 276 Pages
Format: eBook & Paperback
ASIN: B00CTPQ47C
IBSN: 9781301679942
Publishing Date: May 28, 2013
Other Works in this Series on SuccuWiki
Plot Summary
No matter how she tries to deny it, Amelia Hoffman has a destiny. An evil plot threatens to destroy humanity and the future lies in her hands. To make things even more difficult, she is distracted by college, family squabbles and trying to decide between two men she loves.
But destiny won't be ignored for long.
When an explosion tears through the Library that houses the entire history of the Otherworld, Amelia is thrust into action. She has to fight through the tension tearing the Otherworld apart to rally an army. As the danger grows, Amelia must rise to fulfill the prophecy.
Or the whole world could fall.
Book Review
At the time of this article's entry in the SuccuWiki, no review was available. Tera has this work on her reading list and will review it as soon as possible.
External Links