A Vampire Turned Me Into A Blood Gathering Succubus (eBook)
Jump to navigation
Jump to search
A Vampire Turned Me Into A Blood Gathering Succubus



A Vampire Turned Me Into A Blood Gathering Succubus Original eBook Cover, written by Dwindle Gee

Author(s)
Dwindle Gee
Publisher
Noirnography
Publication date
July 3, 2017 (Original)
April 19, 2018 (Reissue)
Media type
eBook
Length
87 Pages
ASIN
B073Q2PVJ9 (Original)
B07CJL35F3 (Reissue)
For other uses of the word Succubus, see Succubus (disambiguation).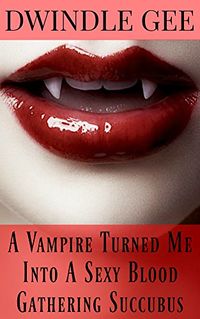 A Vampire Turned Me Into A Blood Gathering Succubus is an eBook written by Dwindle Gee. In this work the character William is transformed into a Succubus called Willa.
Overview
Title: A Vampire Turned Me Into A Blood Gathering Succubus
Author: Dwindle Gee
Published By:
Length: 87 Pages
Format: eBook
ASIN: B073Q2PVJ9 (Original), B07CJL35F3 (Reissue)
Publishing Date: July 3, 2017 (Original), April 19, 2018 (Reissue)
Plot Summary
William is a young, up and coming movie executive in 1950's Hollywood. One fateful night he has a meeting with a dark and ghastly creature, a vampire, that will change his life forever. If you like your erotica mingled with a taste of gothic and macabre horror then this is the depraved and lascivious story for you! The title pretty much says it all as we follow young William as he transforms into an icy succubus and wanders the Los Angeles night falling into one exotic and erotic adventure after another as he – now she – quests for an immortal soul to deliver to her new Master. And you will never believe how the transference occurs! Let's just say you may never think about anal intercourse the same way again! If you like your kink with a touch of the sinister then you will truly love this tale of lust, hunger, evil, and despair as demonic creatures of the night haunt and hunt in the mid-century streets of Tinseltown.
Book Review
The following review was originally published by Tera on her Blog, A Succubi's Tale on August 22, 2017

William has his life turned upside down by a vampire that takes away his manhood and transforms him into a seductress of the night. But not all is as it seems and Willa discovers that her needs are deeper and more terrible than she could have imagined.
The work reads very much like a 1950s B-grade horror film with a lot of odd erotica mixed into the telling of the story. While William or Willa, the main character is interesting at times, there's a fixation in the telling of the story that makes the narrative read oddly. Part of that I think comes from an echo of the over the top why some 1950s movies were and the author's attempt to mix that into the telling. But it takes away from a lot of Willa's character developing, her discovery of her nature and the terror of finding out the fate she's been drawn into.
That's the real problem with the storytelling, as a whole. There's more time spent in describing various sexual encounters and how some of them turn horrific, than there is in allowing Willa to deal with what's happened. Willa is, to some extent, a succubus, there's a lot of clear aspects to her character that make that quite clear. But then the vampiric nature of herself takes over for the most part and with that comes a detachment that causes her narrative to lose itself at times.
Similarly, the background of the Count isn't really told, the world beyond sex, blood and gore is dearly muted. It's a shame because Willa has flashes of brilliance as a succubus, but they quickly get tossed aside for the next bit or horror or erotica. I didn't find the erotica had much in the way of heat, it being written at times very clinically and in a similar way the horror seemed to be missing some emotional impact as well.
The work could use another editing pass for the small number of spelling mistakes and lifeless dialogue that keeps appearing. There's emotion missing, a lot of it, and without that emotion there's little in this work that held my interest and I wish it had. I'd love to read a succubus story set in the 1950s that's closer to some of the really good B-movies in tone. I think that's interesting and if that was done with more of a sense of humour than this work has, I think that would make the difference here. Three out of five pitchforks.
The work reads very much like a classic 1950s campy-horror film in a lot of ways with a heavy dash of oddly described erotica. It's a bit dry, at times the story didn't appeal to me and I really wish it had for how often there were flashes of brilliance in Willa. There's some moments of foreshadowing I think didn't work, there are points at which less erotica would have made way for a lot more story and that would have helped a lot.
There's a story here, but the campiness, the over-the-top horror and erotica mixed with the odd writing style makes it really hard to enjoy and that's a shame.
External Links