A Succubus's Sexual Awakening (eBook)
Jump to navigation
Jump to search
A Succubus's Sexual Awakening



A Succubus's Sexual Awakening eBook Cover, written by Dalia Daudelin

Author(s)
Dalia Daudelin
Series
Sisters of Lilith (Original)
Demonic Dreams and Succubus Seductions (Reissue)
Publisher
Midnight Climax
Publication date
April 11, 2013
Media type
eBook
Length
24 Pages
ASIN
B00CBPZ4WQ
B00LERL89U (Reissue)
Followed by
The Demon's Slave
For other uses of the word Succubus, see Succubus (disambiguation).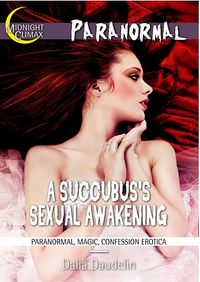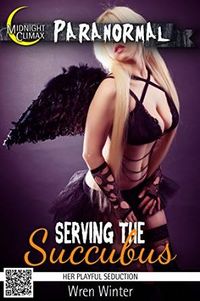 A Succubus's Sexual Awakening is an eBook written by Dalia Daudelin. It was originally billed as the first work in the Sisters of Lilith series by this author. Upon the work's reissue, the series was changed to Demonic Dreams and Succubus Seductions In this work, the character Lilybella is a Succubus. The work was then further reissued under the title Serving the Succubus and the author's name changed to Wren Winter.
Overview
Title: A Succubus's Sexual Awakening
Author: Dalia Daudelin
Published By: Midnight Climax
Length: 24 Pages
ASIN: B00CBPZ4WQ, B00LERL89U (Reissue)
Publishing Date: April 11, 2013
Other Works in this Series on SuccuWiki
Plot Summary
A mysterious senior society at an ancient college. A beautiful High Priestess with a secret agenda. 15 hopeful new members of a magical sorority.
Idola Song is the High Priestess of the Sisters of Lilith, a sorority that has existed for over 200 years, opens her Eden to 15 new seniors of Dunwich College. Each girl must confess her sexual encounters in order to join... but will these stories actually give power to something more evil than they ever imagined?
The first confession comes from a young succubus, Lilybella, who learns about how strong her powers of seduction are in the worst possible way.
Book Review
At the time of this article's entry in the SuccuWiki, no review was available. Tera has purchased this work and will review it shortly.
External Links