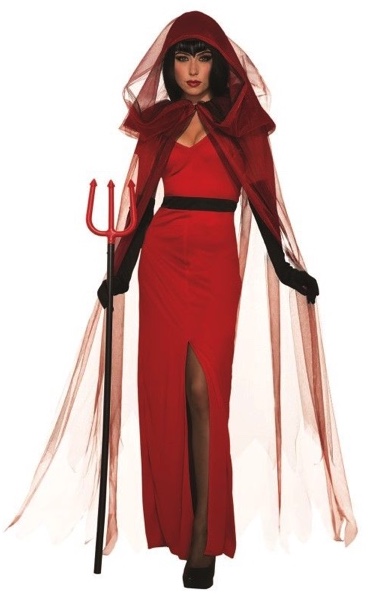 I think that overall there are generally two things that any Succubus costume should have. Horns and a tail are somewhat a must have really. So why is it that so many costumes of late don't offer one or the other, or both? What's more bothersome is a costume where you really can't make a set of horns work well.
This is called the Crimson Demoness Costume and it comes with the dress and the hooded cape. The pitchfork and the gloves are not included and it sells for a surprising $65 US.
Overall this really isn't much of a devil costume, it certainly isn't a succubus one. The overall look is bland, there's no horns or tail as well. It's more a slightly adult red riding hood than anything else and that's stretching things a bit.
Uninspiring, there's really nothing of note, there's really no way to improve this overall. A better option would be a nice red dress and horns, which wouldn't take much imagination, and it would be better than this.
Zero out of five pitchforks.
This just doesn't work at all.
Tera