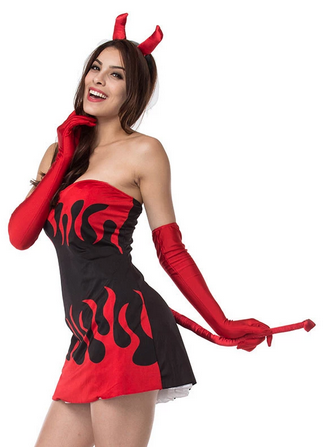 It seems that the disappointment levels in costumes isn't going to be falling anytime soon. Perhaps what's really sad is how lousy the horns and tails are getting.
This is the Red/Black Devil Fancy Mini Dress Costume and it comes with the dress, the gloves, the lousy tail, horns and pitchfork that is destined to be going to the garbage can. It sells for $45 US on the few websites I have found it on.
Losing the horns and tail would be the first thing, they are both lousy and tacky. The dress is marginally better, but that really doesn't mean a lot. The pitchfork is the typical sparkly tacky thing that I detest as well.
It seems to be an ongoing theme of late. A nice red dress and decent horns would look a lot better.
One pitchfork out of five.
I'm being very kind in that rating I know.
Tera