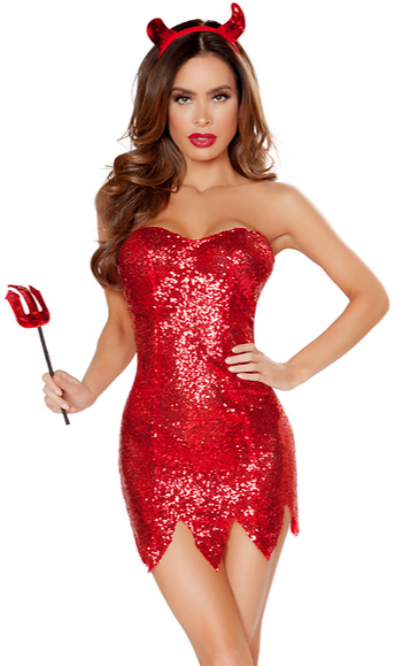 Halloween is creeping closer by the night and quite surprisingly, a costume this time on the Tale which I honestly like… mostly. Oh there are issues of course, but there's just something about a flattering simple dress and horns that just works.
This is the Devilish One Costume and it comes with the sequin tube dress, horns and pitchfork. It sells for a surprising $63 US and I don't mea that in a bad way overall.
The pitchfork is lousy of course, the horns are a bit floppy and misshaped as well. But the dress looks really nice overall. It's not trashy or ugly, there's a bit of flair to it overall that I think is quite attractive.
The right pair of heels, a better pair of horns, and tossing that pitchfork in a fire would help a lot. But that's the thing isn't it? You can make this better with a few small changes and that's promising.
Three and a half ut five pitchforks.
I'll admit to having a very nice red sequin tube dress already, which is probably tilting my view a little. But sexy doesn't need trashy and this at least gives a chance to be that…
Tera