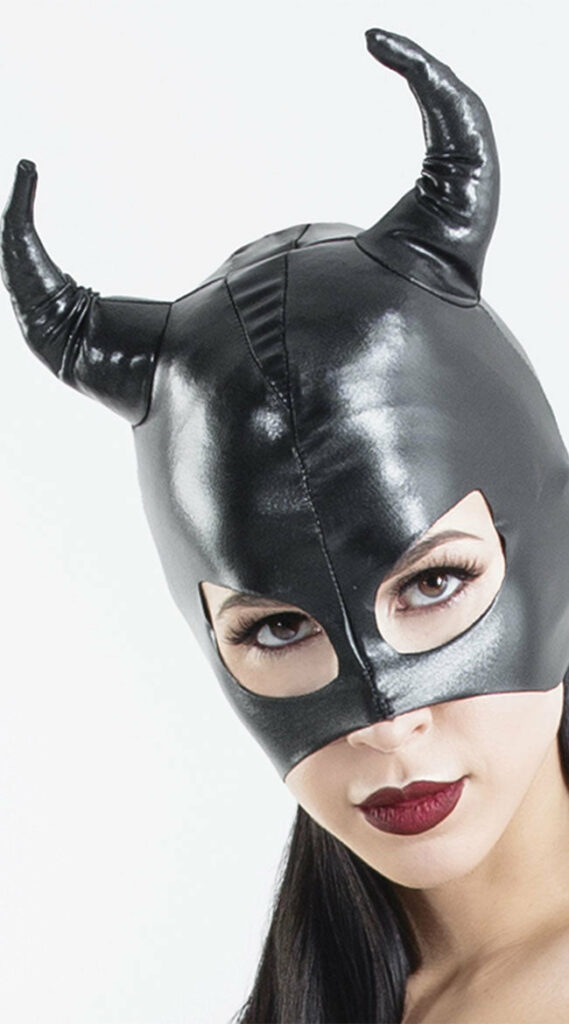 I don't really care for masks as a whole, mainly because my hair doesn't work well with a mask being the main reason. That said, there's also the point that masks just leave something missing, a part of the seduction that just doesn't come through.
This is called the Devilish Defiance Wet Look Mask, and what you see is what you get for $20 US.
It's… really nothing special look-wise, the horns are really disappointing as well. That said, I have seen far better latex fetish hoods that, with the right dominatrix look, put this to shame.
I reviewed a harness costume a little while ago that had this as what the site suggested as an accessory. That did work, to a point, again it's the question of how Domme you want to look more than anything else.
But I come back to thinking about somewhat more expensive latex hoods, the right latex corset, stockings and really sharp heels and think… there's better than this.
I'm giving this zero pitchforks out of five for two reasons. One, I just don't like the style, hoods have never been my thing anyway.
The second reason is that there's a note on one of the website that this is found on that states it is "selling out quickly" and… I just can't believe that…
Tera