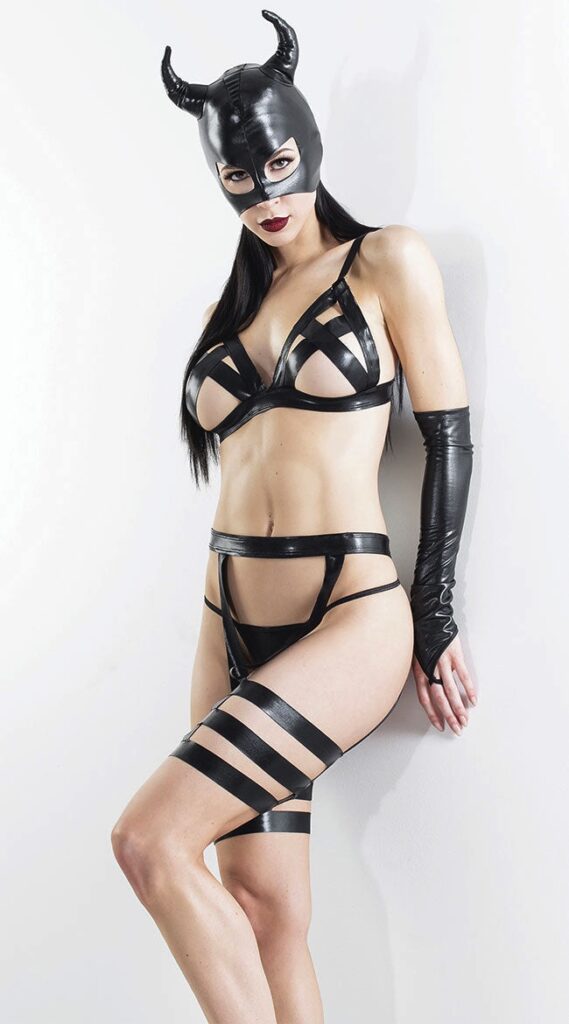 Sometimes it's hard to decide if a costume is a costume or it's just a bunch of accessories tossed together. That's not to say that can't work by any means. It's more of a question of what's the single image that gives me pause. It's fairly obvious in this costume I think.
This is the Devilish Defiance Wet Look Bra Set and it comes with the bra, the lower harness with garter straps and the three strap wrap around leg garters. The horns/mask, gloves and bottoms are not included and it sells for $30 US.
While I realize that I shouldn't be looking at the entire look to rant about, it's kind of hard not to. That said, a future thought will come about that mask which I don't care for. However I like the gloves with this look, so that's something positive.
That leaves what's left and honestly the one thing I like are the leg garters. I think that's interesting on its own as a look. So, overall, if that mask wasn't part of this, I'd be a bit more attached to this look and really just adding a pair of black horns.. and red hair for reasons that those that know me will understand, bemuses me.
Two and a half out of five pitchforks.
It's a thought, or the beginning of one, but needs some work to make it better than it is…
Tera