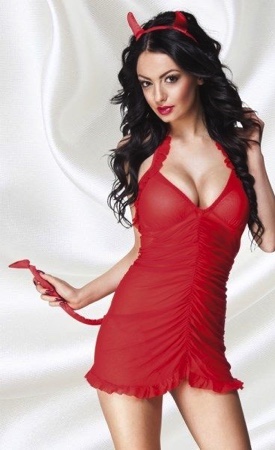 Sometimes the simplest costume ideas are the best. Much of the time a really slinky red dress matched with a set of horns can be just the right look. But sometimes it's so close and yet not quite there.
This is called the Late Night Red Devil Costume and it comes with the red mesh dress, which has a tail attached, a matching red thong and a horn headband. It sells for $60 US on the sites I've found it available on, though it does go on sale from time to time.
I actually like the dress a lot, even if the tail does nothing for me. The horns are, of course, disappointing, but that's not a surprise. The dress looks nice and really that's the one thing that's attractive to me.
I'd remove the tail, find a better set of horns, and there's really nice set of red heels that would work perfectly with this that I have in my collection.
Four of out five pitchforks.
Really it's the dress that I find intriguing in the possibilities it has. The rest of it, sadly, just doesn't work as well as it should…
Tera