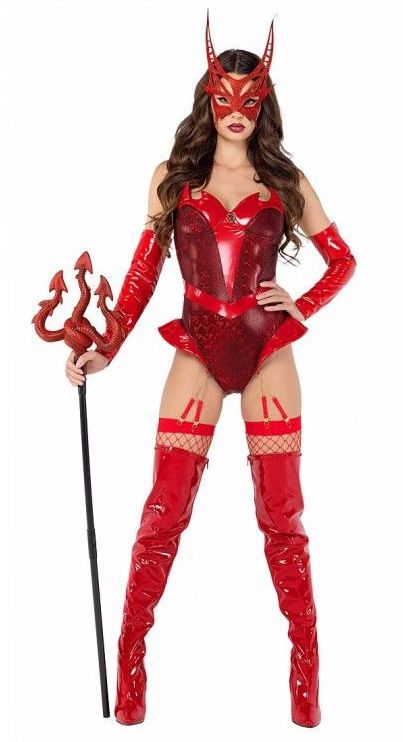 Once. a long time ago. there was a line of costumes that carried the Playboy name. The devil woman one didn't do a lot for me, mainly in that there was little thought given to the look overall. Recently a new Devilicious costume has appeared with the Playboy name and it causes me to muse about it.
This is the Red 3pc Playboy Devilicious Costume and it comes with the padded cup romper, which has a tiny Playboy bunny logo as a charm attached to the top, the garters, gloves and mask are included. The boots, fishnets and pitchfork are not included and it sells for $150 US, mainly because it has Playboy's name on it.
Overall it's actually kind of cute, though the fishnets are a mistake as is the pitchfork the model is holding. While it does have a devilish look, the flares on the bottom of the romper are a bit odd. I wonder if they had a sexy alien costume and changed the colours to make it more devilish so they could sell more without doing a lot of effort.
It's a nice costume when paired with the right boots, otherwise it's somewhat disappointing considering this has a connection with Playboy. There's been better devil costumes worn by the bunnies that have appeared and I wonder why they didn't use one of those as a starting point. It might have been something amazing.
Three and a half out of five pitchforks.
It does have a look, it has possibilities and that's better than most of the costumes so far this year…
Tera