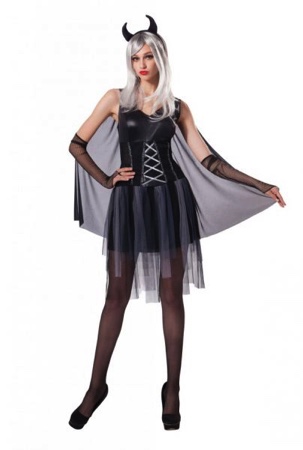 The new year has begun and, of course, the costumes aren't really getting better. I hope this isn't foreshadowing the coming year… but it probably is.
This is called the Devil Lady Black costume and it comes with the dress and corset, arm sleeves and the rather black devil horns headband. Shoes and stockings are not included and it sells for $35 US on the site I found it on.
Amusingly, the expression of the model fits my view of this costume disaster. It's bland, there's really nothing sexy or seductive about it either. The horns are cringe worthy and the cape seems like an afterthought with no real reason to be part of this.
It's a shame that the corset binding on the front looks so wrong both in colour and style. It might have been an idea to change the colour accent from white to red, or black, that might have helped in turning the attention point of the dress away from the lacing at least.
Zero out of five pitchforks.
There's really not much that can be done to improve this, I don't care for it all that much as it is.