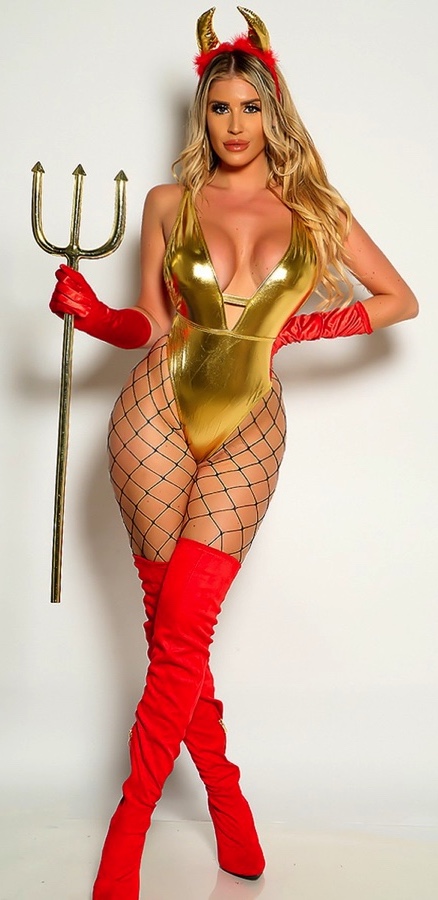 Tacky seems to be a common theme in a lot of costumes that have appeared on the Tale, which is a shame, and it seems like it will always be there lurking somewhere. I'm really not sure about this week's costume, as when I first glimpsed it I thought it was a trashy superhero look. Maybe it should be.
This is the Gold Sleeveless Metallic Two Piece Devil Costume and it comes with, according to the listing, the gold trim pointed hemline dress and a pair of wings. I don't see the wings at all mind you. Going by the image, I think this is supposed to be the dress and the horns, which would make sense. Also, according to the listing the gold devil horns are not included, nor are the stockings, the boots or the gloves. Or the pitchfork. So this is making less and less sense as things continue. What's really confusing is that this sells for $65 US.
I don't think the gold and red work well together and having looked through the website, there's a better option in going all gold with the gloves and boots, forgetting the stockings as that just looks trashy.
But this is such a confused mess that it's hard to sort things out well. It is trashy, it's not really sexy either as a whole. It's not really something I'd consider, but for those trying to put a superhero costume together… the overall look less the horns and pitchfork might work?
One pitchfork out of five.
It's… something… and that's saying a lot.
Tera