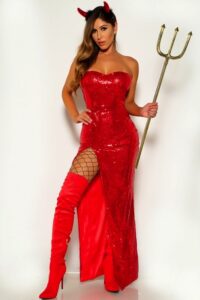 I'll admit to having a few… well… more than a few… sexy red dresses. If there's one thing I've figured out, it's that there is no possible way that fishnets can work with any long dress of any time. I'll allow for stockings… because stockings however. That then brings me to this week's costume disaster…
This is the Red Sequins Strapless Devil 2 Piece Costume and it comes with the sequin dress and the horns headband the model is wearing. The pitchfork, fishnets and boots are not included and it sells for $90 Us, but can be found on sale for as little as $30.
Setting aside the accessories, the dress itself isn't the worst thing. But the horns are lousy, the pitchfork makes things worse and the fishnets just throw this headlong into complete and total trashiness.
It would take very little to make this look at least partly sexy. Better horns and some stockings with red heels and this becomes almost tolerable, which is saying something.
As a whole, this is another example of needing to really think about what you want to look like and make this better than it is. It's not really all that much as it is and that's the real problem.
Two pitchforks, being generous I know, but there's something here to work with and that's more than what I can say about a lot of other costume ideas…
Tera