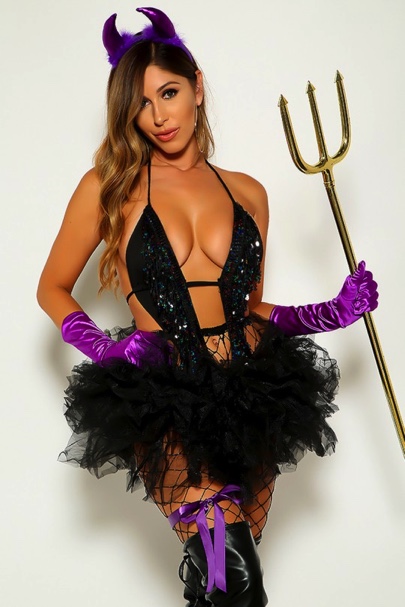 You'd think that I'd come to the end of reviewing devil costumes… You'd think there was no further examples of tacky, silly or, even worse, ugly costumes to pitchfork.
Well, you'd be so, so, so wrong. Something this time that rides the edge of tacky, but, maybe there's the slightest bit of something positive to be found. One can hope.
This is the Purple Black Sequins Devil 3 Piece Costume and it comes with the bodysuit this model is wearing, the poor excuse for a horn headband and the leg straps. The tutu, gloves, pitchfork and fishnet stockings, or boots for that matter are not included. Originally priced at $80 US, with a coupon on some sites it can be purchased for $32 US.
Oh where to start my ranting… Firstly, the image is very deceptive with regards to what you get. You need to read the fine print to know how much more you have to buy to come close to this look, which as an aside means this will add up to about $160 based on the original price if you get everything the model is wearing.
What's more bothersome for me is how tacky this overall look is, especially with the fishnet that appears underneath her tutu and the bodysuit. Didn't anyone have a look at this before publishing the image? Wouldn't it have been a thought to get rid of the fishnets and try to make things look even slightly better?
The horns are ugly, especially with the faux fur,  it wouldn't have taken much to clean them up some, perhaps even style the model's hair a bit to frame her look better. This could have been something better and sexier given a little more effort and thought as a whole.
Two and a half out of five pitchforks.
It's an idea, actually not terrible one given some effort, but as things are, it's disappointing.
Tera