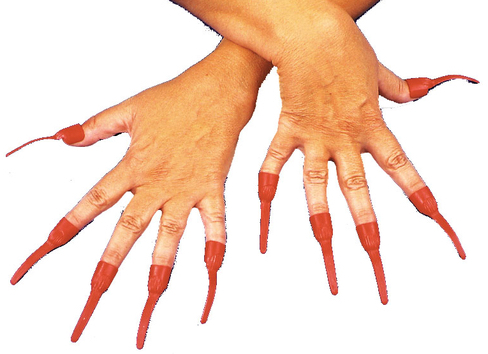 I've wondered what the most useless and possibly ill conceived costume accessory might be. It would seem that I have stumbled across that pinnacle of poorly hatched ideas this week on the Tale. Perhaps the most surprising thing is the rating that this hot mess received on the website I found it on… but I'll get back to that.
There are, obviously, a set of Red Devil Nails, they come ten to a pack, and that package of awfulness sells for about $3 US.
Rather than being press-on nails, which I could deal with, these nails are attached to caps that go over the tips of fingers. Issue one, they don't work well with female hands, long nails make these things impossible to place properly and they fall off. Then there's the issue with how those fake nails are positioned, you can't really pick something up with them, at which point you're better off to pull the silly things off and toss them into the trash.
I can't see why this is a viable option, it's far better to glue some nail extension on and colour them to your heart's content.They look silly as well, and I'd think the oddness of one's hands would divert attention from whatever costume you might be wearing.
That then brings me to the rating these have on one website… They have a four out of five score which I can only chalk up to someone making a joke… at least I hope so…
As for me? Zero pitchforks out of five.
I'll have my nails done in a salon thank you.
Tera