Some names given to devil girl costumes are… wrong. That is to say a word is used incorrectly, does not reflect the costume's reality and it just makes me roll my eyes. There's a certain vision of what a word means, and if a costume cannot pull that off, then, really, it's more of a very bad joke.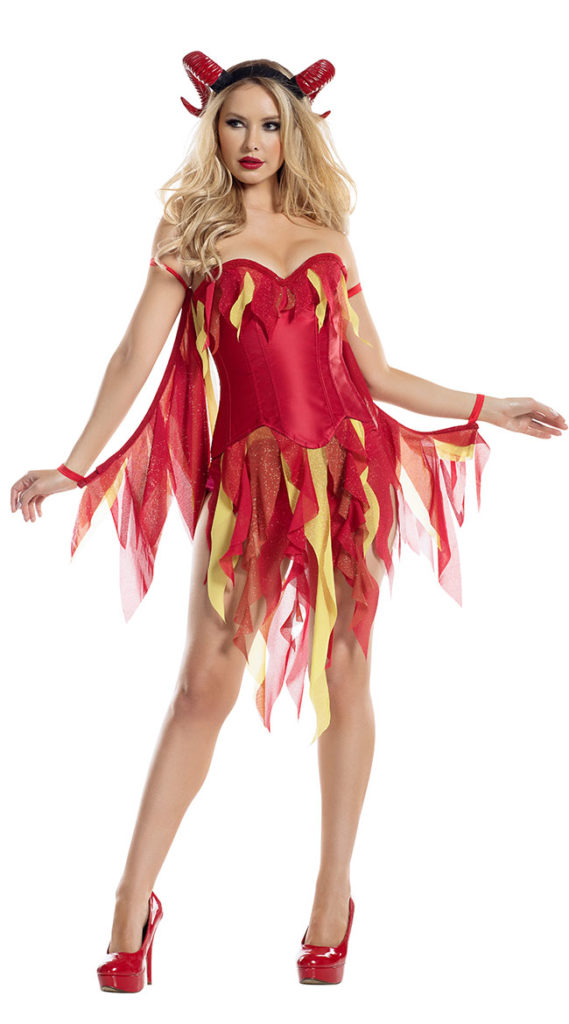 This is called the Demon Suprema Costume and it comes with the red corset, matching arm pieces with arm and wrist cuffs, a matching flame skirt and a red horn headband. The shoes this model is wearing are not included, and based on the description it's hard to say if the horns she is wearing are part of this costume or not.
Based on the price of $99 US, I find it hard to believe they are. I've seen those horns offered elsewhere for about $35 US, so I think it's unlikely.
The overall look is cheap and very unfinished, the horns seem to be able the best part of this overall costume and, again, it's not clear if they are part of this or not. I don't care for the ribbons or the attempt at "wings" either. It just seems there's not a lot of thought, seduction or sexiness to be found here.
Which beings me to the name of this mess. "Suprema" suggests that this is the best costume of all. That there's very little which could be seen as being better than this. That, to be clear, is a very large misnomer.
There's nothing of value here, save the horns, but, again, it's questionable if they come with the costume or not. I'd be more inclined to get the horns, one of my red corsets and a leather skirt and be far more seductive than this could ever be.
Another zero out of five pitchforks.
Tera