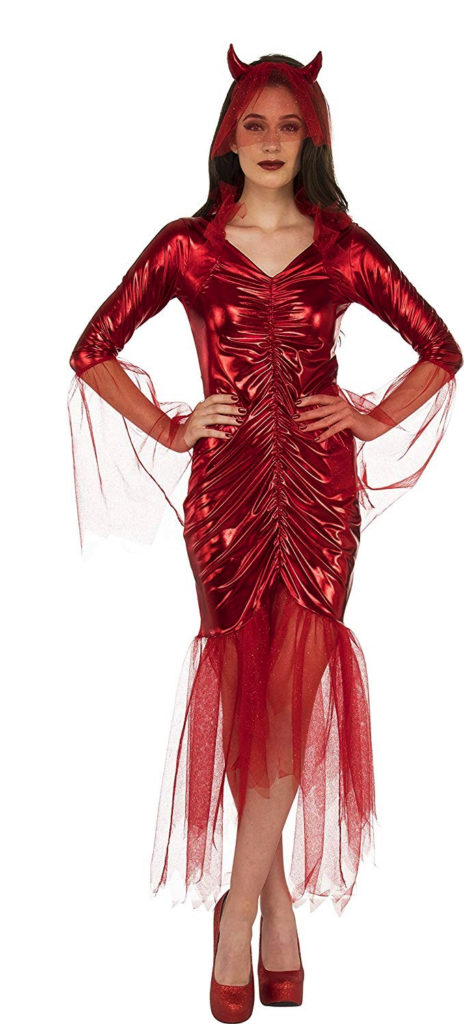 There are some costumes that just look unfinished in some way and really that's a shame. They have promise, but then the costume designer adds one piece too many or one accent too far.
This is called the Red Devil Bride Costume and it comes with the costume dress and the horn headpiece which, interestingly, has a veil attached to it. The shoes the model is wearing are not included and it can be found on several sites for $32 US.
While the veil is interesting, I'd be more inclined not to wear it and only use the horns, which aren't the worst I've found.
But the fringe on the arms and the bottom of the dress don't look all that nice to me. I think this would look better with the sleeves being longer and the hem of the dress being extended, changing the style to something similar to a mermaid dress style.
The other option I think might be to change the style a bit more and make it an off the shoulder style, then add a pair of red opera gloves of the same style as the dress' material.
Making those changes would remove that pinched look to the chest area and really would make the overall look so much sexier overall.
As things are however, the unfinished look take so much away that I can't really consider it as an option.
One and a half pitchforks out of five.
It wouldn't take much stylistically to make this so much better.
Tera