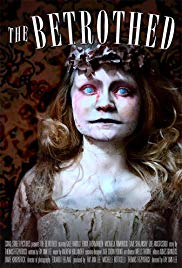 I found a trailer for a short film called The Betrothed on Vimeo while searched for succubus themed videos there. Having done a little googling,
The work appears on IMDb and otherwise there's really not that much else to be found about it, which is, I admit, rather disappointing. It is an American film, it's about 22 minutes long and is categorized as being "fantasy/horror".
Those that know me will be well aware that at this point I'm expecting the work to be more horror than erotic and, generally, portray the succubus, if there is one, as somewhat stereotypical overall.
The plot of the work is really not what one might expect and in being so, I'd hope that there was some effort put into making the "evil" be more than "just evil" as a whole.
IMDb summarizes the film as:
An advertising executive, engaged to be married, is convinced he's being stalked by a succubus, but is afraid to tell his fiancée for fear of being labeled insane. But are his experiences real or just wild dreams stemming from the prescription drugs he's pushing?
Based on that short outline, and the trailer which is below, it's difficult to say if this really is a succubus themed film or something else. What makes it harder to short out is that this film was completed in April 2018, but I cannot seem to locate it.
If anyone has an inkling as to where I could find a copy, it would really be appreciated. Regardless, here's the trailer and my thoughts about it.
If you can't see this trailer on the Tale, please try this link.
This could be interesting as a psychological horror slash thriller. there seems to be aspects of that, but it's so difficult to tell from just a trailer.
So, again, if anyone has an idea where to find this, please let me know and I'll give this a proper review.
Tera