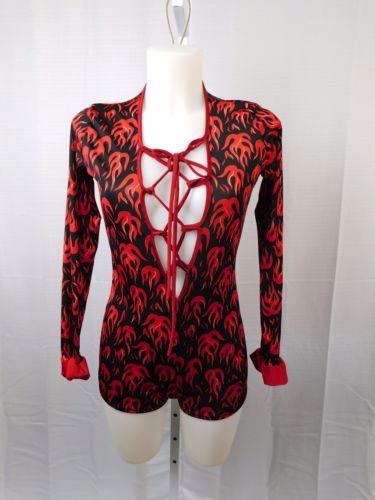 For this week's costume, something I found on eBay which is both a delight and so tacky at the same time. The costume is lovely, to be clear. It's the accessories that made me cringe and sigh in disappointment.
This is called the She Devil Costume and it comes with the bodysuit, a pair of horns so lousy I cannot bring myself to share them and a tail which can really only be described as a strap on bent at a really odd angle and then the end was hammered out into a spade. It's really that bad. This was being sold on eBay for $30 US at the time I found it.
I think the bodysuit is interesting, regardless of the somewhat plain pattern that appears on it. If this was the bodysuit alone, I think there's some possibilities of adding decent horns and a tail which would make this something special.
But there are accessories, they are the height of trashiness and so that just brings so much disappointment. Ignoring the accessories, I'll give this three out of five pitchforks, but with them, this falls to two out of five pitchforks.
It's a shame really…
Tera