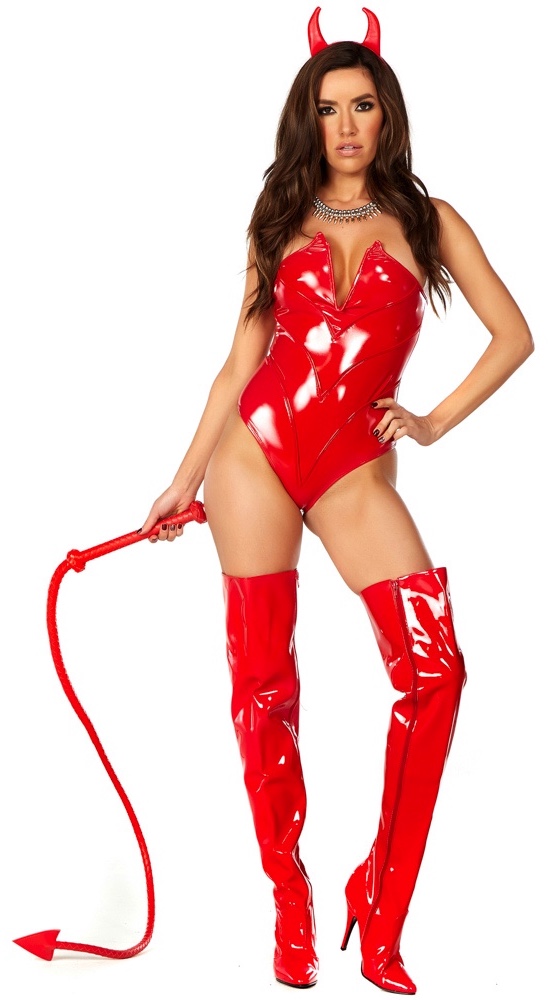 There seems to be a theme this year in devil costumes and that seems to be red and shiny. Now, I do like latex more than vinyl and overall just being shiny isn't really enough to make a costume something more than tacky.
Perhaps the problem is that using the same template, over and over again for different costumes means that there's little left for making them better.
This is called the Forplay Devil Costume and it comes with the red bodysuit and the rather plain looking horns. The whip and boots are not included, nor is the necklace this model is wearing, and it sells for $60 US.
This is one of those examples where the base costume needs a lot of accessories to make it work and in this case, doing so would bring this up to $175 US.
It's disappointing to note that I don't care for the costume at all, but the boots… oh the boots I do rather like. Even the whip makes me smile and that's really saying something.
Still, for the costume alone, as bare as it is, I'll give this one pitchfork out of five.
I want the boots however… for… reasons….
Tera