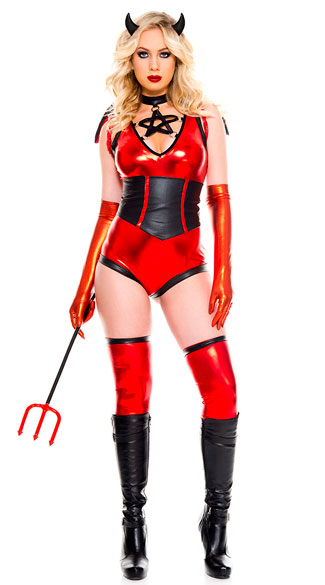 There's a point at which a costume goes that little bit too far. The look is too busy, there's too many things added to the basic look that just makes things a hot mess.
Now, that's not to say there's a few things in this week's costume that are interesting, but there's too much going on and the look is just that side of trashy which doesn't make it appeal to me as a whole.
This is called the Malicious Devil Costume and it comes with the red wet look romper, a black five point star choker and the black waist cincher. The red wet look gloves, black horn headband are also included. There are a pair of black and red wings which can't be seen in this image, a pitchfork that can be, and red thigh high stockings with a black top.
The boots are not included and this costume sells for $50 US. Adding the boots would bring this look to $130 US.
Overall the look seems too unfinished or perhaps it's more accurate to say that the look seems past trashy and into being incoherent.
Really the only things I like here are the gloves and the stockings. Beyond that it just doesn't appeal to me at all. I'll add that the wings are interesting, being overall red with a bit of black along the upper edge, which do look nice. But that isn't enough by far.
One pitchfork out of five.
There's too much that just looks wrong, it's too busy and the trashiness is really something almost indescribable.
Tera