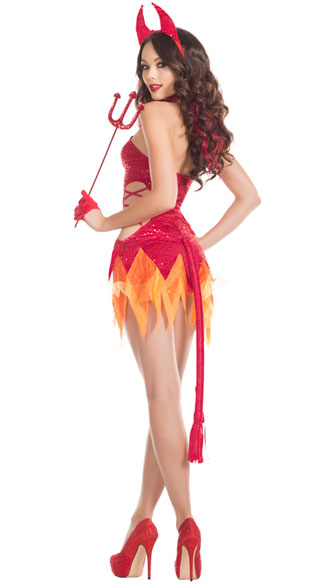 I can't recall more than a bare handful of tails on devil costumes that didn't make me cringe. There are some which are just a strip of fabric with a spade stapled to them. Others have some shape, but just sort of dangle there limply. Then there are those costumes where there's something added that makes little sense to be.
This week's costume brings up the question as to why, exactly, one would have tassels on the end of a tail?
This is called the Flaming Deva Costume and it comes with the red sequin skater dress that has an attached collar and harness, a red devil tail with tassels… and a sequin devil horn headband. The gloves and shoes the model is wearing are not included, nor is the the terrible pitchfork she is holding either and this sells for $90 US. Adding the shoes and gloves and pitchfork would bring this up to about $150 US altogether.
I'm sharing a bit of a different angle on this costume as otherwise one cannot see the absolutely terrible idea of a tail having tassels on the end of it.
The dress itself isn't the worst thing ever, there's a bit of a crepe paper feel to it, but the colours make some sort of sense at least. The horns sort of work, though they are the pincher ones that I really don't care for very much. It's saying something when what appeals to me the most are the shoes the model is wearing and the gloves she has. The pitchfork is, of course, awful beyond words as it always is.
Setting aside the costume a moment, the little red highlights in the model's hair aren't anything like those I have done for Halloween… but I digress.
I would get rid of the tail, change the horns and, of course, I have far better pitchforks to tease with. Still, as a "public" look it's a place to start which is saying something I suppose.
Three out of five pitchforks.
Mostly average and that's not quite good enough.
Tera