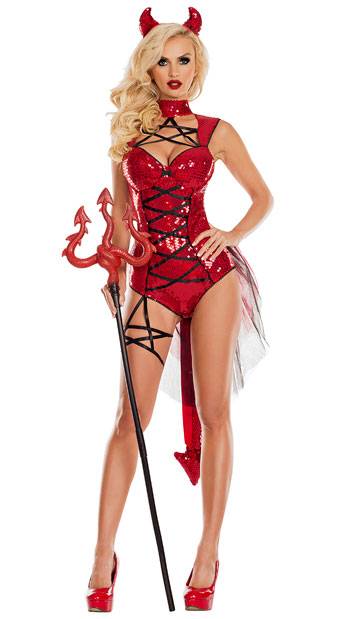 Occasionally there's a devil costume that really isn't all that bad overall. But why is it that, almost every time, that the tail is just so dearly trashy that it wrecks any hope of the costume being something almost sexy?
This is called the Pentagram Devil Costume and it comes with the red sequined sleeveless romper, the stretched pentagram accents around the right thigh and upper chest, the red sequined choker and corset straps leading up to the black bow.
It also includes the alternating red and black bustle in the back with a very limpy and awful sequined devil tail.
The horns are sparkly and the lousy pitchfork the model is holding, and her shoes are not included and this costume sells for $89.95 US.
Adding the shoes would push the cost of this ensemble to about $125 US.
I really do not like the tail at all and honestly it's something that shouldn't be used with this costume at all. It looks trashy, out of place, and really there's nothing positive I can see or say about it.
I will admit to liking the overall look, at least the horns match the costume overall, and it's not quite completely tacky either which is a small bonus. Still, the horns are sparkly, they seem a bit out of place and really there are better choices that would work better with this look as a whole.
I will say that this model looks very nice here, even if that tail just makes me cringe.
Three out of five pitchforks.
It's not the worst, it does show some imagination on the behalf of the costume designer, which is a surprise. Perhaps there's some hope that before Halloween arrives this year there's going to be something that is better than I'd expected it to be.
Tera