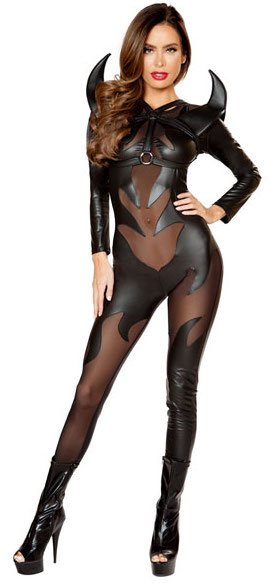 When is a devil costume not a devil costume? It's when the only horns that appear are ones that are not included with the costume.
For some reason, someone thought that it would be a great idea to create a pair of horns, really huge ones, and try to convince those looking for devil costumes that anything they offer with the horns, is one. Truthfully that's not right and more importantly, they look silly in the first place, whatever the costume might be.
This is called the Evil Devil Costume and it comes with the bodystocking and nothing else. The shoes are not included, nor are the shoulder horns an the costume sells for $80 US. Adding the horns, and I don't like them, but I'll get back to that, adds another $30 US.
As such, this costume really isn't a devil costume, because the one part of the costume that makes it devilish, it's part of what is being offered. Oh the bodystocking is nice enough, the flames motif is interesting, but it's not a devil costume, not really.
I feel like this is a bit of a misleading costume, even if in the description they do clearly say the shoulder horns are not included.
One out of five pitchforks.
I'm being generous, overall it's nothing really special and there are other issues as I've mentioned.
Remember those shoulder horns, they will be returning a lot over the next while…
Tera