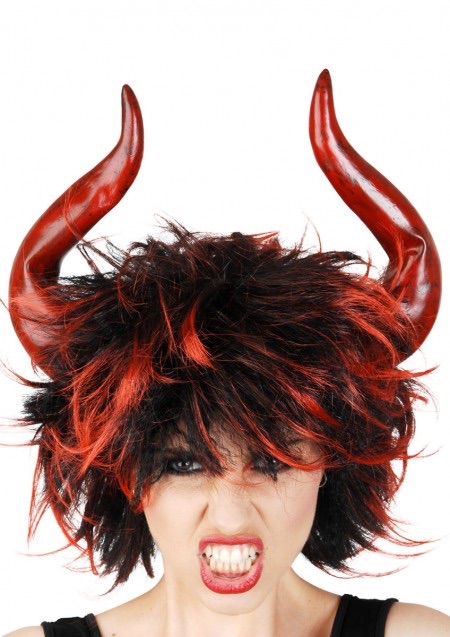 Another in the long running series of wigs with horns that make me cringe. This time it's not just the horns, the lousy looking hair or even how tacky the entire thing looks. Somehow the expression this model has just takes this wig into the stratosphere of tackiness…
This really doesn't have a name, it's just described as a red and black wig with horns and it sells for $27 US on the sites I found it on.
I just find this really tacky and that's saying something. I've come across wigs that are just really lousy or over the top, but this is the sort of thing that makes me cringe.
Mind you, the idea of the model getting out of bed and looking like this makes me laugh, so that something.
Still, the horns are silly and over the top, the hairstyle is a complete disaster area and while I sort of see the reason for that, it doesn't mean I have to like this much, if at all…
One pitchfork out of five.
I'm being a little generous here, but really I've come to realize that putting red highlights in my hair and wearing some really good looking horns goes a lot further than anything like this ever could.
Tera