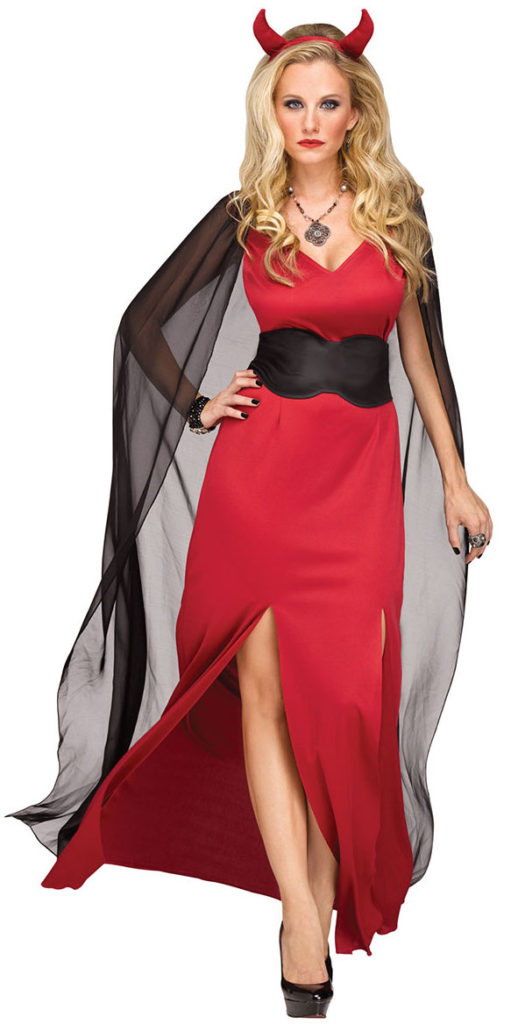 If there's one accessory that I cannot stand when it comes to costumes, that has to be the waist cincher. They look ugly, braking up what otherwise could be, if one is very lucky, a decent looking dress. But they keep appearing, for reasons I cannot understand.
This costume is called the Devilicious Costume and it comes with the red gown, the black waist cincher, a sheer black cape and the red horns headband. The shoes and other accessories are not included and you can find this costume on various sites for between $20 and $30 US.
The dress is rather plain, but that black cincher just adds so much tacky to the overall look that cannot be ignored. Even if the horns don't quite look right, or the dress isn't that flattering, or the cape isn't anything special, that cincher just doesn't work at all.
I hesitate to say this, but adding the most disliked of all of the pitchforks I've come across would be better than that cincher is.
That said, I don't care for this look very much, though at least the dress has a relatively decent cut to the hem and slits. Perhaps some folds or texture to the dress would help, the cincher needs to go of course and perhaps a little more effort needs to be taken to make the cape less of an afterthought and something more.
Two and a half out of five pitchforks.
Perhaps someday that cincher will no longer exist. I can hope at least.
Tera