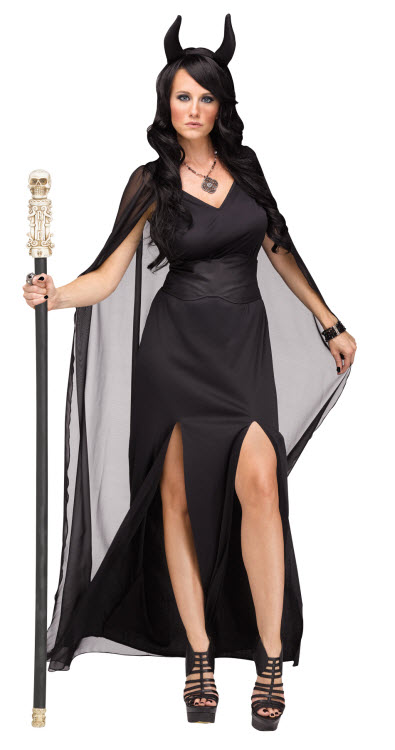 Sometimes the name given to a costume is, I think, far more apt than the designers and manufacturers might realize. Lousy costumes, and ideas, aside, there's something about called a costume "damned" that sometimes really describes things so very well.
This is called the Keeper Of The Damned Costume and it comes with the black slinky dress a waist cinch, the sheer cape and a pair of horns that, at least, matches the dress. The shoes are not included, nor is the sceptre the model is holding and you can find it on several sites on the web for between $30 and $40 US.
It's really not the most awful thing I've encountered, and really I shouldn't say that it has the look of the "damned", but there's just something about the overall look that doesn't quite work for me.
Setting aside the lack of a tail, this is more of a wicked witch, or a certain Disney character's overall look than that of a succubus. It's a bit bland, a little ordinary overall.
I'm unsure of how to make this better, thought I will say that the flatness of the dress in its texture just takes away a lot overall.
Two and a half out of five pitchforks.
Not the worst, but it's only average, if that.
Tera