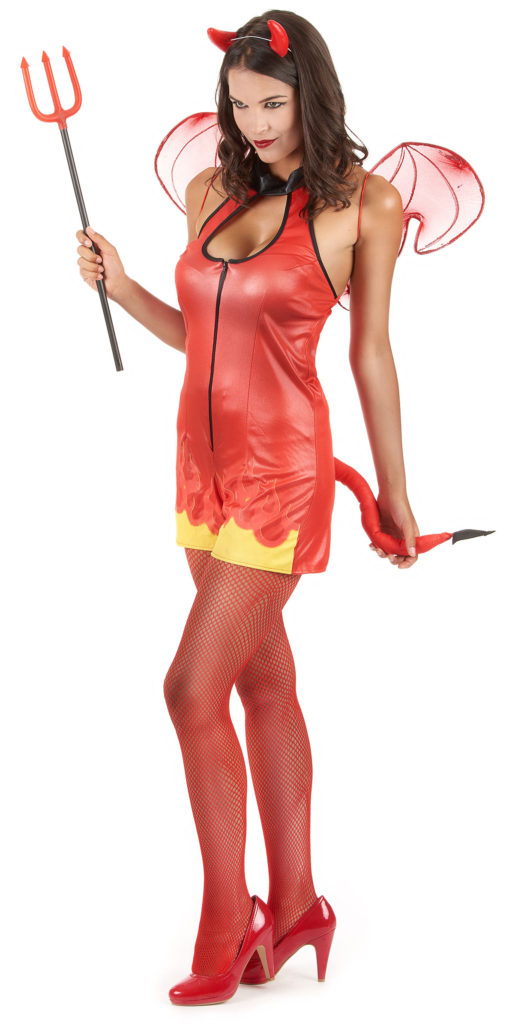 As much as I like shiny costumes, there are some that just don't work for me. For the last costume of the year, something shiny, but that doesn't help things at all.
This is called the Sexy Devil Costume and it comes with the dress, a tail, a pair of horns and wings. The fishnets and shoes are not included and it sells for $75 US.
It's really not that inspiring honestly. The tail is attached with velcro, the horns use a thin piece of elastic to hold them in place, they aren't very nice regardless. The wings are the usual cheap looking ones, which do nothing to make the dress better than it is. As for the dress, the flames are a bit poorly attached, the overall look isn't exactly flattering as it is a bit cheap looking. As well, that zipper going up the front of the dress just removes any kind of seductiveness it has, never mind how come-hither the look the model is using can be.
As a whole the look is slightly better than cheap but still tacky. I think it could have been better with some more care taken to make the accessories better, to redesign the dress to put that zipper out of sight as well.
One pitchfork out of five.
This is another one of those costumes that gives me an idea, but not much else is attractive.
Tera