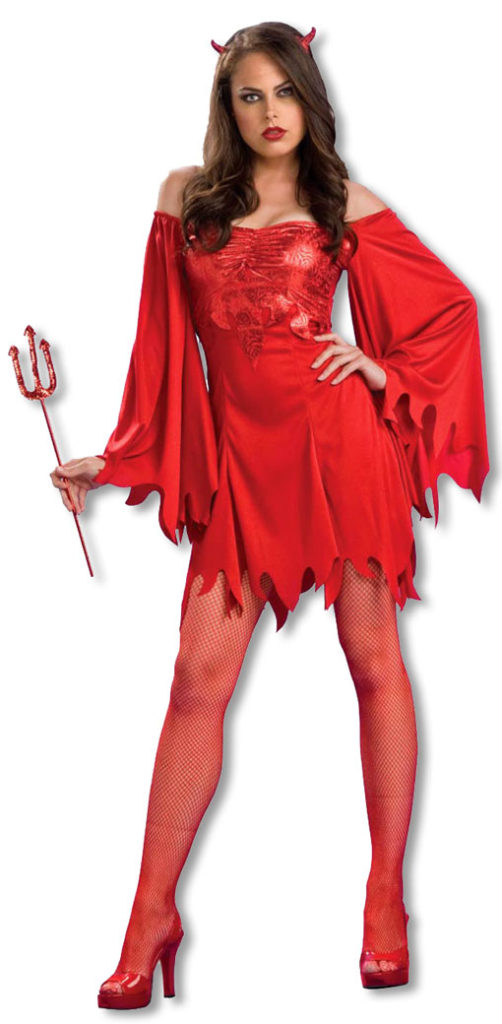 I think that style is important in costume design. It takes very little to ruin a costume or make it be outstanding. Sometimes that can be as little as a poor hem, an odd cut of a dress that takes away from what otherwise could be something amazing.
This is called the Lady Devil Costume and it comes with the dress and the horns. Stockings, pitchfork and shoes are not included and it sells for $45 US.
I actually like the off-the-shoulder look, I love the rose pattern as well. But the hemline looks like trash and otherwise ruins was could have been something really lovely.
The horns are far too small, almost like an afterthought, or some stock being cleared out. Either way I don't care for them at all. As a whole ensemble, this really doesn't work for me and that is a real shame.
That rose pattern is so very appealing and I think if this was a low cut dress to show off some cleavage, and a flowing train, I think that would have been delightful. But this is bordering on being trashy, especially with the stockings, shoes and pitchfork this model has.
Boreline sexy, but the trashy takes that all away. But the roses… That's something for me to ponder…
One pitchfork out of five.
There is better, but there's also an idea to play with I think…
Tera