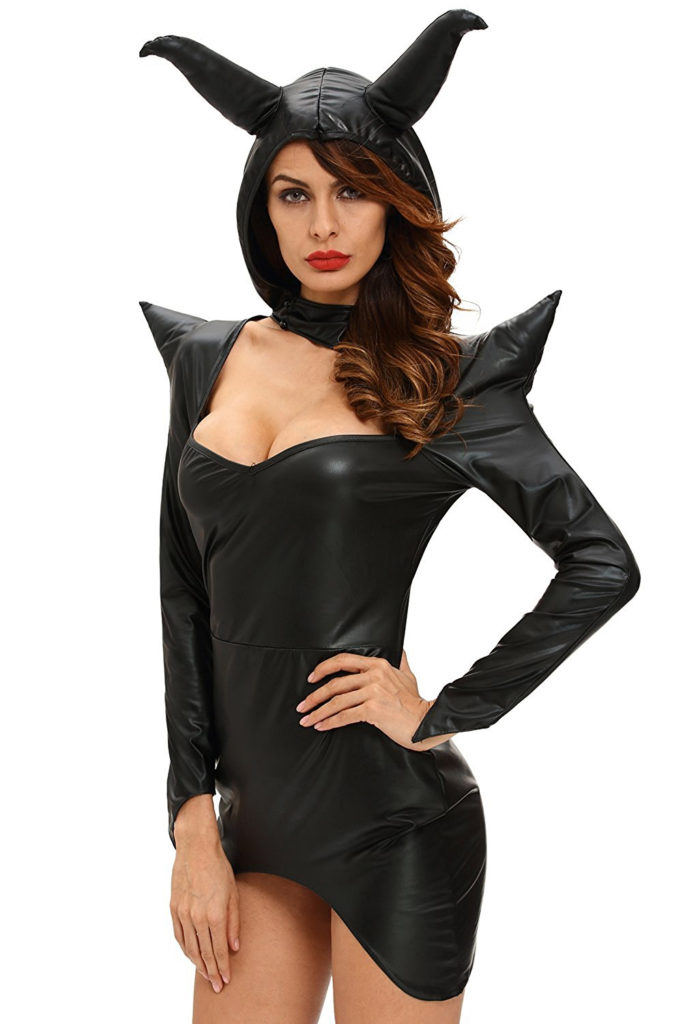 Occasionally the costume isn't that much of a costume. Many times what matters is the look of the dress, how it's shaped, the material and the look that can make it something special. I might prefer red, but sometimes black makes a wonderfully tempting choice. Even if the horns are a really bad idea.
This is called the Dark Sorceress Devil Costume and it comes with the faux leather mini dress that has an attached hood with horns. The jewelry, choker and stockings the model is wearing are not included and it sells for $50 US, but it can be found on sale for as little as $22 US.
The overall look is, of course, a reflection of a certain movie that shall remain nameless, but the horns alone should be a really obvious clue.
I don't like that the hood and horns are attached to the dress, they really don't look nice and honestly when you get too hot and put the hood down then you have a pair of horns sticking out from either side of you and that just looks wrong.
But I really like the dress and the style of it. It's a bit short, obviously, but I think there's a delightful sexuality to the look overall. I would however remove that hood and horns, they have no place with that dress at all. A nice pair of patent leather heels and a pair of red horns would, I think, be perfect here.
Three and a half out of five pitchforks.
I really like the dress, but that hood has to go.
Tera