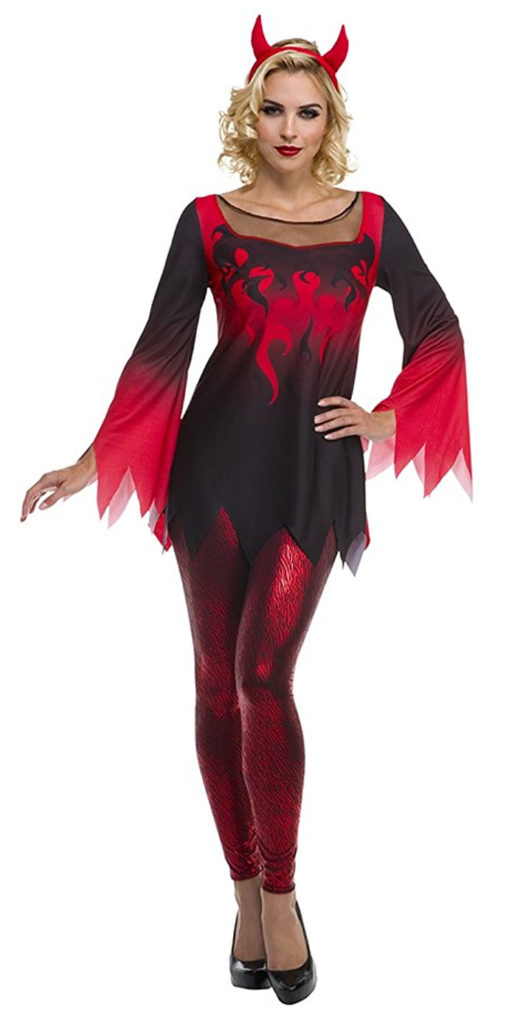 Occasionally there is a costume that has something going for it. A style, something a little different. It's a rare thing when an ensemble actually looks decent enough to get out of being tacky and being something that's ever so slightly classy.
This is called the Shiny Devil Costume and it comes with the dress, horns and leggings. The shoes are not included and the costume sells for $28 US.
I actually think this doesn't look half-bad which is really saying something all things considered. There's a bit of flare to the look, the costume itself seems like some care was taken in the design, the accents and the flame pattern isn't an afterthought. I think it looks "right" in a lot of ways overall.
The sleeves could be a little more "flame" in design, though they aren't terrible. I also like that the stockings seem to match the dress quite well, adding to the overall look instead of taking away from it.
The horns aren't my favourite, and I would find something far better with this combination, along with a different pair of heels than this model is using.
I think this is a nice PG rated costume for those sort of parties were being sexy and seductive might be a little too much.
Three out of five pitchforks.
It's cute, in its way, and that's a surprise…
Tera