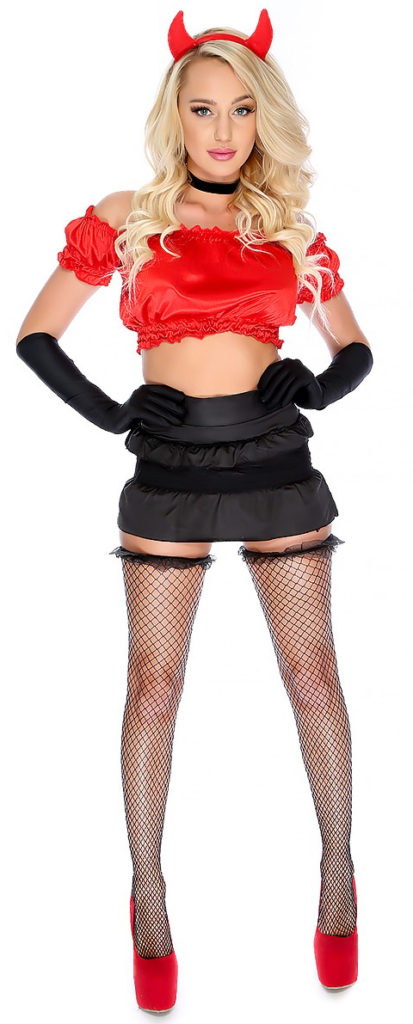 Another example today on the Tale of a costume that, at first glance, offers something, but the details take much of that away. Far too often costumes appear that attempt to be sexy, but aren't. More often costumes appear that aren't exactly what you get in the package. Perhaps more clarity would be a good place to start?
This is called the Red Black Sexy Devil Costume and it comes with the red off the shoulder crop top, the black miniskirt and the uninspiring horns. The gloves are included and there is also a red belt, which isn't shown. The fishers, choker and heels are not included. It usually sells for $45 US, but it does appear on special for as little as $24 US from time to time.
It's… not all that much really to look at, overall there's the barest connection to being "devilish", it isn't at all "succubish" however.
I hesitate to call it trashy, but it really sits on the edge of being so in a lot of ways. It looks a bit cheap, there's almost a "lady of the night" feel to it and that bothers me really.
The skirt does nothing for me, the top as well. The horns are nothing special. As the fishnets and shoes aren't part of this, it's a bit of a shame that they are seen as part of the overall look.
Again, it's that trashy look that bothers me here. Nothing really appeals to me I wouldn't consider it either.
There are better things out there, believe it or not. The problem is finding them… and quickly.
One pitchfork out of five.
I'm being kind I know and I think really the only reason I'm giving this a single pitchfork is that the model is trying her best to make this look good.
Tera