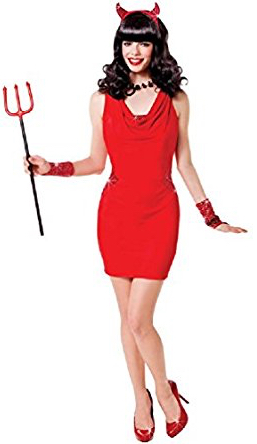 In my searching about the internet I discovered what I can only describe as a 1960's housewife next door wig. That brought to mind the idea of a 60's Succubi next door costume, which then led to what I found recently. It's about the right look, it's intriguing, but once again that damned pitchfork appears to irritate me.
This is called the Devil Lady Sequin Red Hot Dress and it comes with the dress, the armlets, horns and pitchfork. The necklace is not included, nor are the heels, and it sells for about $30 US.
Obviously I do not like the pitchfork, or the horns really either, though they matching the armlets is a nice touch I will admit.
Overall, really I think I can find a nice dress at a second hand store for a little bit more, add in a pair of red pumps and a pair of my favourite horns and I'd have the look I want that's better than this is.
But this is good as an idea, something to start with and that's a good thing… Even if this really isn't all that good.
Two pitchforks out of five.
Thoughts again, something possibly, we'll see…
Tera