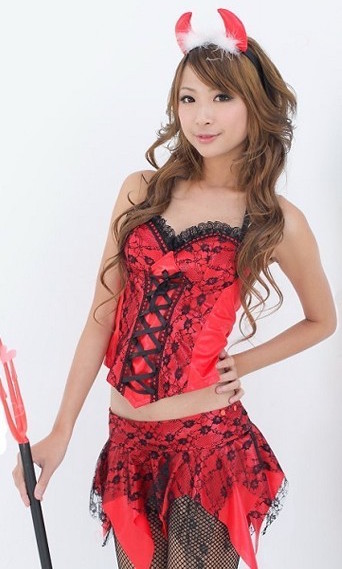 Tacky continues to rear its head this week on my search for decent costumes. Why is it that a costume designer can make half a costume well and the other half look so trashy? It cannot be that difficult to make a skirt match a top can it?
This is called the Sexy Naughty Devil Costume and it comes with the corset top, the skirt and the rather ugly horns. The pitchfork that I continue to want to have set on fire every time I see it is not included nor are the fishnets the model is wearing. It sells for $25 US.
The corset, as a costume, doesn't look all that awful really, but the skirt makes me cringe. While I can see how the two match, in their own way, they can't get beyond being trashy looking.
There are other options for the skirt, even a simple red one slit up one side would look better than what comes with this costume.
As well, the horns with that little bit of fuzz just do nothing for me as well.
One pitchfork out of five for the corset only. The rest is a zero.
There is better. Somewhere.
Tera