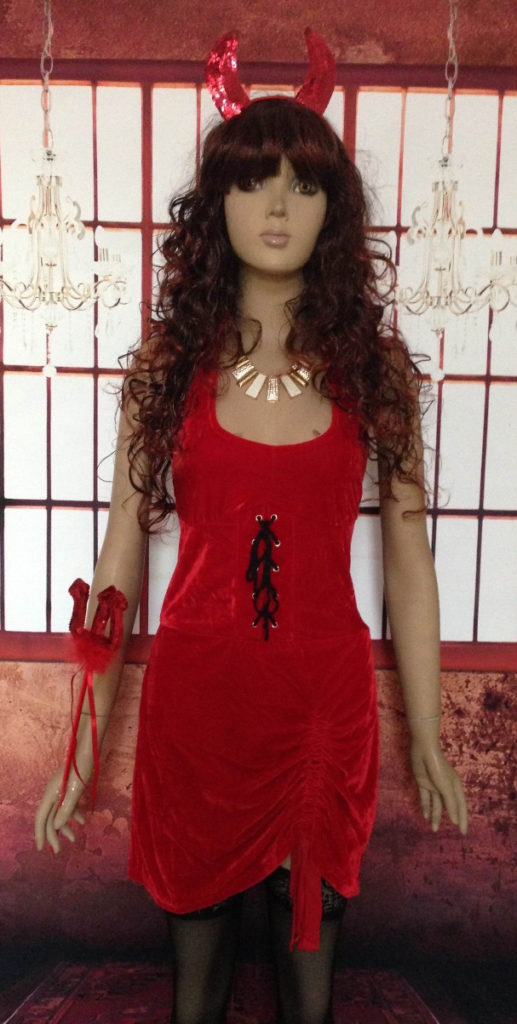 One of the things I have noticed in my many years of looking for at least semi-decent costumes is that the same accessories appear over and over again. A pitchfork that makes me sigh, and a pair of horns that makes me wince. While you need them, or at least one of them, to have a devil costume, that along cannot make it more than tacky. It can only make things more so.
This is called the Hot Devil Costume and it comes with the dress, the pitchfork and the horns. The necklace is not included and it sells for $16 US.
There's really nothing here that is all that sexy, seductive or otherwise. There's nothing inspiring about this either. The accessories are tacky, the lace accent on the dress just makes things look poor.
Really this is just a red dress, paired with some accessories and called a devil costume. While I understand that not every costume is stunning, and not every costume is amazing…
This one just is… ordinary.
Nothing really to be done to make this better. Really this isn't an option for me. Perhaps for someone, but I can't see how to get past the tacky.
Zero pitchforks out of five.
It's tacky. Really that says it all I think.
Tera