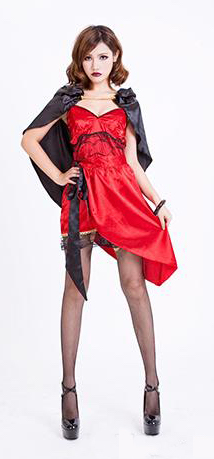 There are many costumes which have, as their basis, some sort of red dress. Some of them are trashy, many are really nothing special. They are, much of the time, used as a means to throw some really poor horns at and call it a costume. It's odd to find a dress that suggests it is a costume, even more so a devilish one, which doesn't have really anything going for it that says it is, in any way, a devil costume.
This is called the Sexy Heart Devil Halloween Dress and it comes with the dress and shawl. The stockings and shoes are not included and it sells for $20 US.
More than anything else, I know, this is just a red dress that's had the word 'devil' attached to it so a google search picks it up. That said, the dress isn't all that lovely, it doesn't have a lot going for it overall.
There's nothing really that says this is any sort of devil, or otherwise, costume. Even adding a pair of horns to this, or one of my most dreaded poorly made pitchforks that I detest, wouldn't make it one.
It is a dress, it is red. That does not make it a costume by any stretch of the imagination. I'm probably more generous than I should be in rating this.
One out of five pitchforks.
Nothing here, no horns, no devil and certainly no succubus.
There are other things to look at. Perhaps next week will be a little more inspiring?
Tera