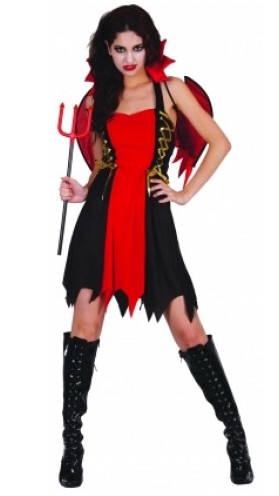 I find quite a lot of costumes that just haven't a lot going for them. They seem to be almost castoffs, missing that little spark of being something different, even if they are not really all that sexy in the first place.
This is called the Female Demon Costume and it domes with the dress, the wings and supposedly a pair of horns as well. The pitchfork and boots are not included and it sells for $35 US.
I get more of a vampire trying to be a devil, and certainly not a succubus from this costume. It's uninspiring, well into being trashy as an overall look. The hem of the dress is awful, how the dress is shaped makes it look even worse.
The wings are silly, the horns are as well. The cowl just makes things worse, sending this into new levels of mixed up costume design that doesn't know exactly what it wants to be in the first place.
Another example of a costume that does nothing for me, isn't something I would consider, and I can't see any sort of way to make things even slightly better.
Zero pitchforks out of five.
Pass this by, find something else. There has to be other options… somehow.
Tera