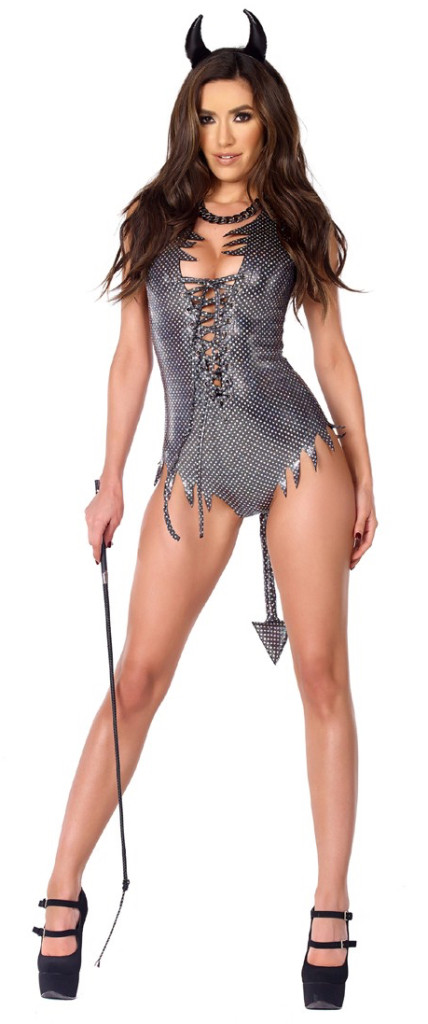 There are some costumes that I look at and think: That's not all that bad. It's sexy, it has some style." But then the realization comes that the tail isn't right, the horns are either. But nonetheless, I do ponder what I can do with it, and if I can, somehow, make it worthwhile…
This is called the Sexy Dazzling Devil Costume and it comes with the swimsuit costume, which has an attached tail the same design as the swimsuit, and the horns. The crop is not included, nor are the heels, and it sells for $100 US.
I have to say I am both attached and somewhat disappointed in this creation. I think the model is doing her best to make this look sexy, and she's doing very well at that.
But there's problems. The jagged edges on the hem bother me, actually quite a lot. The horns aren't wonderful, but they aren't awful at least. The tail however makes me cringe a little. I suppose making it black like the horns or making the horns like the swimsuit would have worked better. Both being black would have been my choice at least.
I think the shoes really work well here and that crop adds a needed bit of naughty as well.
In a way this reminds me of a certain silver dress loving member of the succubi in the Realm…
And if this is what my Eternal was going up against, and resisting, then I think I might have to buy this just to tease him…
Four out of five pitchforks.
Naughty thoughts are good things after all…
Tera