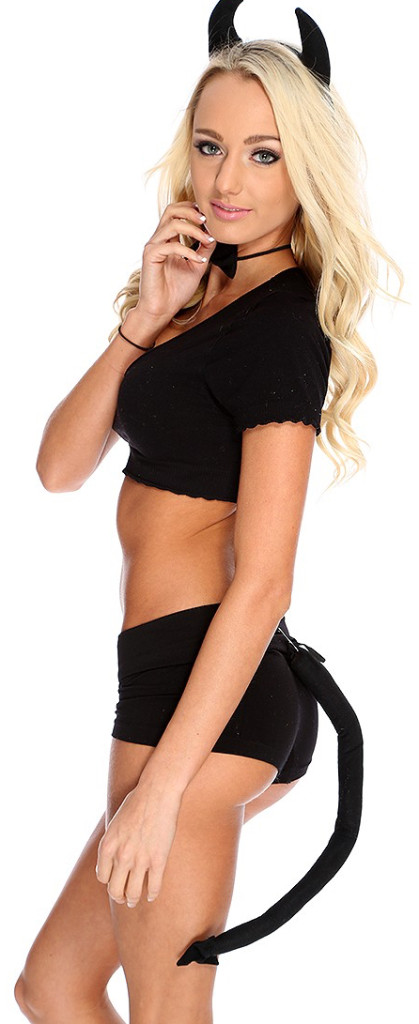 There are, of course, accessory kits that offer some items to turn, so the ad copy says, any dress into a more devilish one. While that might be true, along with the "devilish" comes the more "tacky" much of the time. Possibly the oddest thing I have ever come across this time in an accessory kit. A bow tie.
This is the 3 Piece Black Devil Costume Accessory Kit, which comes with the horns, the tail and a bow tie as displayed by the model here. It sells for about what you might expect, $5 US.
It is, really, another example of tackiness, but at a low, low price. Which really doesn't make it any better at all.
What I cannot wrap my tail around is the bow tie. The horns and tail are lousy, but they make some sense at least. Why a bow tie?
I can't think of a good justification to explain it other than the company that put this together needed to get rid of an overstock of bowties or something like that.
Perhaps I might be slightly more inclined to ignore the bow tie if the top and bottoms this model is wearing were included, though that might be stretching things a bit.
I don't think it's horrific. Cheap yes, but then it's worth $5 so one shouldn't expect much of anything from this.
It really does nothing for me, the horns are meh as is the tail and as for the bow tie… I've seen better.
One and a half out of five pitchforks.
Uninspiring really, and if you had a costume that needed this to make it better, I shudder to think what that looks like…
Tera