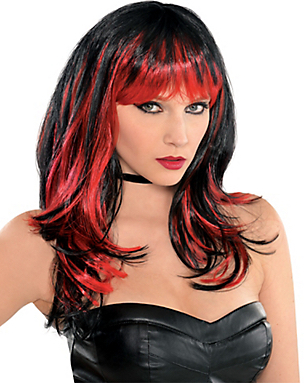 It's been quite some time since I last considered a wig as a possible costume option here on the Tale. Overall so many wigs are okay, but needing something more, at least for my tastes. For example, there are not many wigs that manage to pull off being both red and black well. That's a rather important thing, for me. This wig, if nothing else, interests me…
This is called the Enchantress Red and Black Wig and it sells for around $20 US.
As an aside, I rather like the clothing choice they made with this model to show off the wig. I'd like to know more about that dress…
That said, I think the red and black mixture looks interesting, sort of a transition between two sides of a particular Queen of the Succubi as it were…
It's not quite as nice as when i have red highlights in my hair for Halloween, but it is an option i think as a whole…
Three and a half out of five pitchforks.
It's not terrible and that's something positive isn't it?
Tera