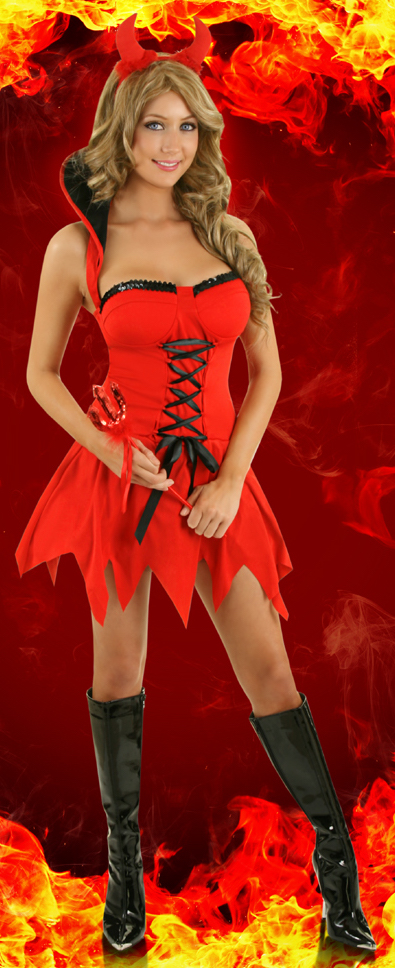 The word vixen conjures up a particular image in my thoughts. A certain look that's seductive, powerful, and envelopes one in an air of animalistic power… This costume isn't it.
This is called the Red Vixen Devil Costume and it comes with the horns, the dress and the pitchfork the model is holding. The boots are not included and it sells for $35 US.
Those that saw last week's disaster will recognize the pitchfork and horns as being the same as that… thing… had. Which means of course I dislike the horns and pitchfork with a passion and would be well pleased to find them a warm fire to reside in.
The dress is almost as cheap and tacky as last week's, though I think it might be slightly better by a microscopic amount or so. The hem still is poor, the material makes it look cheap and tacky, and most of all, I can't understand why it comes with a cowl.
Actually I think I know why, this is also available as a vampire costume which means that someone figured the one costume could be used twice, just throwing in different accessories.
And, in case you were wondering, I don't like the boots actually.
It's nothing special, it doesn't have much in the way of style or seductiveness going for it. But, it is slightly, barely, more appealing than last week's costume was…
Half a pitchfork out of five.
Just a sad thing overall, and there are better. I hope next week will bring one…
Tera