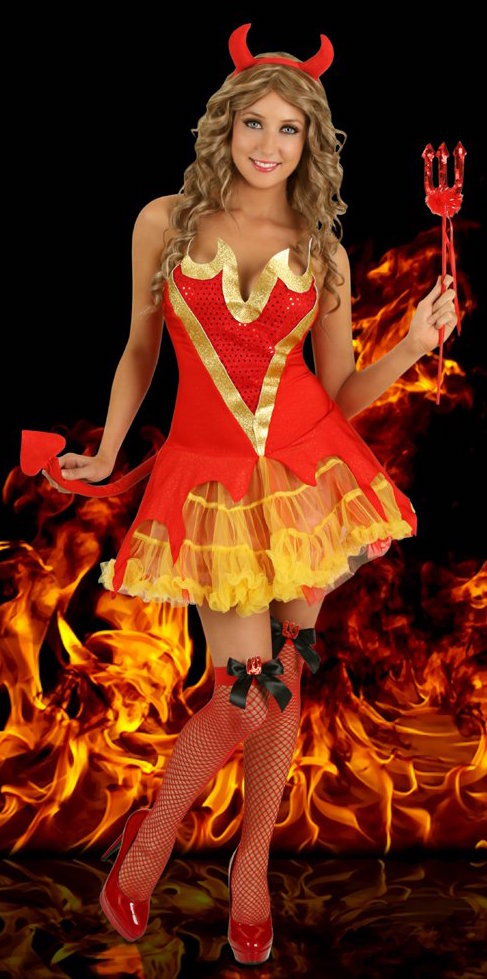 Tacky can be something very painful to look at, especially when looking at a red costume with florescent yellow arrows that are quite literally burning one's eyes out at the slightest glimpse.
This is called the Halloween Devil Fancy Dress Costume and comes with the pincer horns, the glow in the dark dress, the sad looking tail and the pitchfork that I particularly dislike about all others. The stocking and shoes are not included and it sells for $40 US.
There is far too much yellow in this costume, if just overwhelms the red and it just seems to scream "tacky" at the top of its lungs. The tail looks more like a plush toy than anything else, the pitchfork is less than suitable and the horns are simply laughably cheap looking.
As an aside, the stockings sell for $9 US, and the shoes are available for $35 US, but honestly neither can save this mess at all.
The overall state of this costume is to make one look silly wearing it, and if not, then at least embarrassed that you spent the money on this and didn't find something that looked, if not better, than at least partially passable as cute.
This isn't however.
Zero pitchforks out of five.
It's awful, sad and trashy. Not much else need be said.
Tera