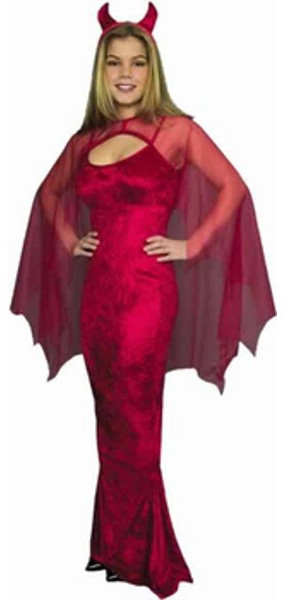 Personally, I like latex. I like it for the sheen, the smoothness and how it adds that little swisch to my tail… among other things. There are other materials, of course, such as velvet that have their own appeal. But material alone isn't what makes a costume seductive, or sexy… or even barely that…
This is simply described as the Ladies Devil Costume and it comes with the long red panne velvet gown with an attached sheer cape. The horns are not included, which is odd, and it sells for $40 US. Adding the horns, which are poor ones, would mean this would cost about $50 US.
There's really nothing sexy about this as I see things. The cape is laughable, the dress itself is uninspiring by far. Considering that the costume does not come with horns, which are, after all, somewhat important, that brings me to ask why this would be sold as a devil costume… when there's not a thing about it that would make it so when it is taken to the cash register.
But then that's the point isn't it? Once you have the costume, you need to buy the accessories, and that means you spend more on this mess or you put it back and pick something a little more expensive that has the horns you needed in the first place.
Don't really care for this, really don't like it.
Zero pitchforks out of five.
There are better. I just need to find them again…
Tera