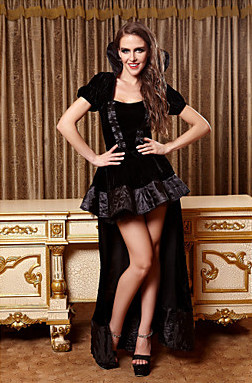 There are many times when looking at all of the lousy costumes I find brings me to a point where, in all seriousness, it becomes obvious that the best thing to do is to pluck a pair of horns from my collection, a sexy dress and leave things at that. That's not to say there aren't some costume dresses that might be something to think about… but that's usually all that happens…
This is called the Spider Dress and it simply is the dress itself which is made of velvet and Terylene. It sells for about $50 US.
This was advertised as being a "devil" dress, among other things, but with that cowl this is more something for a vampire costume than anything else, not to mention the expression on this model which makes me cringe a bit.
It's not a terrible choice, but it isn't really a good one either I think. Most of all that cowl bothers me and i would have to get rid of that somehow. Beyond that, as I said, it isn't totally horrid, but it comes close.
The dress just seems to look cheap here and there, and it need not be. Lose the cowl, get rid of the puffy shoulder pads and give the overall look some texture at least. Something to make this more than a dress that frames one's legs, no matter how good they might look…
Two pitchforks out of five.
I have a much nicer leather mini dress… or the latex one… or…
Tera