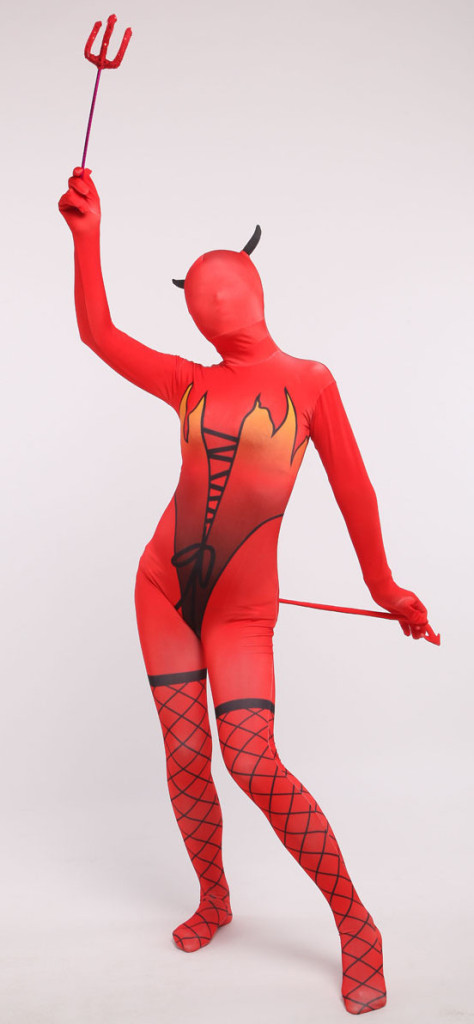 I think I have found a devil costume, it isn't a succubus one by any means, which might be either the oddest thing I have ever found or… something. I'm just not sure what exactly.
This is called the Red Devil Zentai Costume and it comes with the suit and horns, the pitchfork does not seem to be included, not that it matters any.
It seems to be selling for about $75 US on the two sites I found this costume on.
While I do understand there is a particular sort of costume lover that like the concept and look of a Zentai costume, I have seen many others that look much better by far.
The entire look just seems very… cheap. It really does nothing for me, seems to be almost a caricature in a way. The tail looks like a piece of string, the horns are odd looking as well.
I think there has to be a costume in the same theme that looks better than this at least. But there's another way to look at this.
There are all kinds of red Zentai suits to be found, so why not buy a plain one, then add some fishnets, a corset, decent horns and a tail and, perhaps, if not the fishnets, then some thigh high boots?
It would look better than this wouldn't it?
Zero pitchforks out of five.
Nothing here and let's hope the rest of the year gets better than this going forwards…
Tera