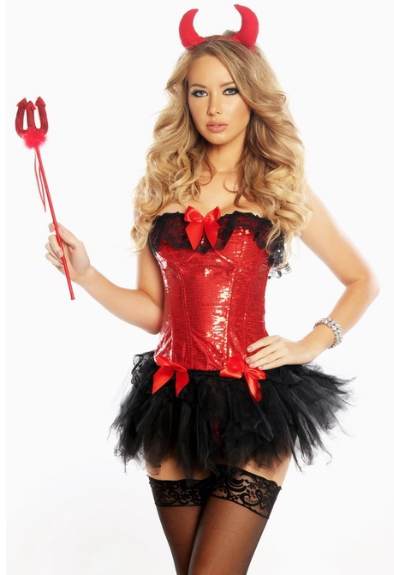 Occasionally there is a corset that almost manages to get away from being trashy and dips a toe, or bow, into being cute. I do like cute, and while this particular corset combination is that, the horns and pitchfork really can't be called that at all.
This is called the Clubbing Devil Costume and it comes with the corset, the horns and the pitchfork. Stockings are not included and it sells for about $45 US.
Obviously I would be tossing the horns and pitchfork into the trash the moment the package appeared. But in doing so there's really nothing that says this is meant to be a Devil Girl costume, and definitely not a Succubi one.
That said, there's just a little bit of cuteness in the corset that I like. Perhaps this might be more suitable for a slightly naughty ballerina or something?
It is a thought.
Still, adding some decent horns, some stockings and red heels, and possibly not having a pitchfork at all might help…
As things are however…
Two pitchforks out of five.
The cuteness gets the bonus points, but that's all.
Tera