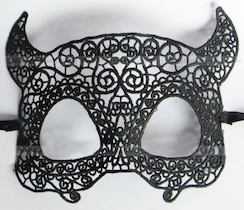 Not a costume today, rather an accessory that might be something to consider at one of those parties where one cannot "be" as Succubi as one would like to be. It does happen on occasion, though it is rare of course. So what does one do when you cannot actually wear horns or a tail, and need to be slightly reserved… and still be the Succubi you are?
That leaves a mask of course…
This lovely piece of mask art is about $10 US, I found this on two sites, one of which has vanished recently, sadly.
I think the overall look is interesting, it seems to be a little understated and yet I do like this.
Framing a pair of green eyes and the mask has swirls in it already? I think this has possibilities with the right sort of black dress and heels…
Four out of five pitchforks…
We'll see if I still have the same opinion when it appears…
Tera