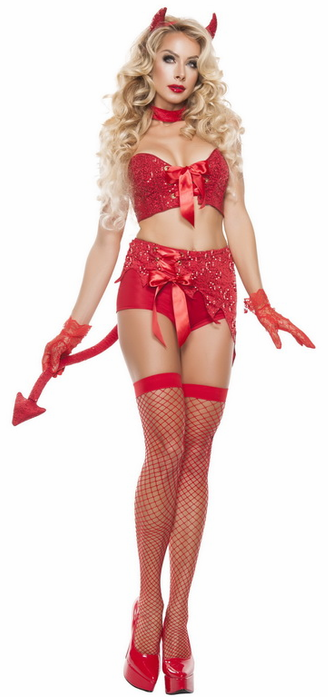 For this, the last peek at costumes before Halloween this year, something a little different. There are not, for some reason, very many lingerie costumes that have a devil theme, even fewer that are even slightly succubish in nature. But there are some, and here is one that gave me pause…
This is called the Fiery Devil Costume and it comes with the top, the boyshorts, neckpiece, tail and horns. Stockings, gloves and shoes are not included and it sells for $160 US.
Adding the gloves, stockings and shoes would then make this entire ensemble a very shocking $225 US.
While I will say that the model is doing her best to make this look enticing, really the base costume, for what it costs, to me seems a bit overpriced.
I will say that, as a whole, the basic costume at least seems to match in colour, which doesn't happen often. But the tail is a bit sad, the horns are so-so. The lingerie by itself I think is rather cute in its own way though.
If given little choice, I suppose the tail would be the first thing to go, it takes away from the entire look I think. The stockings and shoes are a must as are the gloves as well.
Which then leads to the thought that something like this could be created with things I have already. Which is something I will have to ponder over…
But then, only my Eternal will know what happens to appear…
I'll give this two and a half out of five pitchforks.
Interesting, missing the mark a bit, but giving me an idea is always good…
Tera