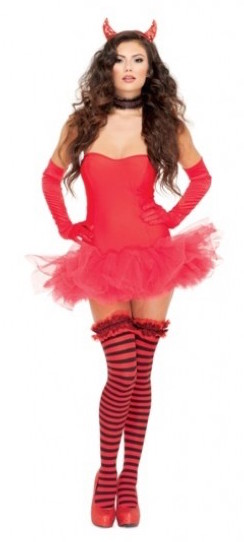 There are so many devil costumes that claim to be a "delight." Really that is in the eye of the beholder, or the one that wears the costume. Still, the designers do have to give the costume a name, and it is as good as any other one really. However, when the "delight" isn't so much in the costume as one of the accessories… That can be a problem…
This is the Devilish Delight Costume and it comes with the dress, but not the tutu which otherwise would seem to be part of it. The horns and the gloves the model is wearing are included, but not the stockings or the shoes. It sells for $45 US.
So, the thing that bothers me about this is that the entire image here is a bit of a mirage. Really the costume isn't complete without some accessories and adding them brings the cost of this to about $140 US. Which is simply too much.
There are so many other costumes that are as expensive, are more complete, and actually stand out compared to this.
However, I will admit to rather liking the stockings, and recalling a story I wrote here on the Tale called "Knee Socks" and giggling a bit over them.
I don't really care for the horns, the costume itself is rather plain. As such, as it is the stockings, and for that matter, the shoes, that attract me the most, I can't say that I would really think about this costume as an option for Halloween…
Too much ballerina for me I think.
One and a half pitchforks out of five.
There's better. Really there is.
Tera