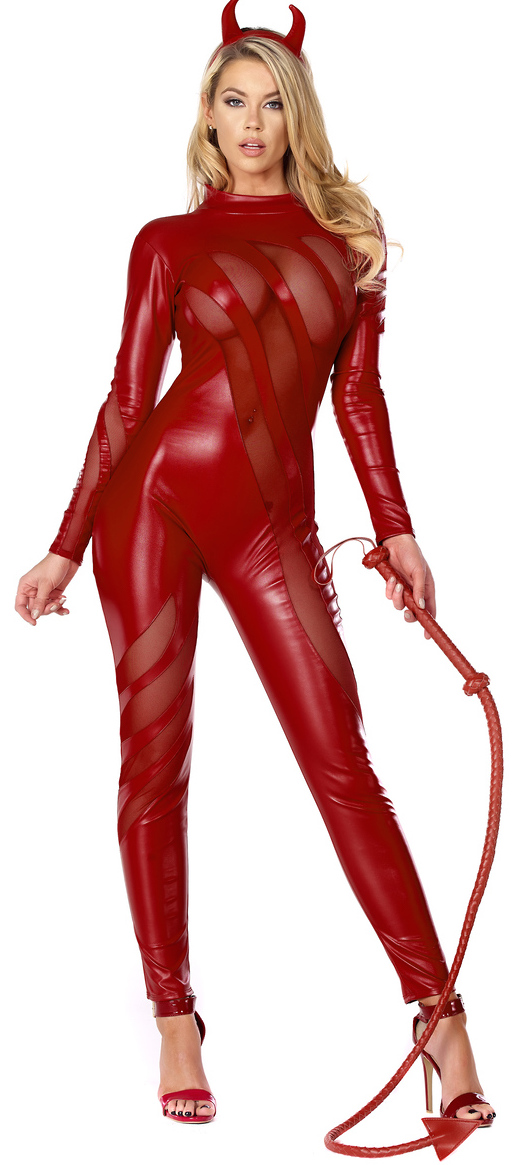 Closer by the day to Halloween, the costumes are appearing here and there as they do. Sometimes those costumes are slightly more adult than most. That's not a bad thing, and sometimes the costume isn't all that bad… or vile as some think it to be.
This is called the Vile Vixen Costume and it comes with the catsuit, with mesh cutouts and the horns the model is wearing. The whip and shoes are not included and it sells for $85 US.
It's… well… not exactly vile, and really the costume name is atrocious, but someone thought it was a good idea. The horns are nothing special, the whip is a bit much and the shoes are not inspiring really.
However, for some reason, I am curiously wondering what this would look like with thigh-high boots. For that matter, a decent pair of horns and the right sort of pitchfork as well.
It has a little bit of a fetish vibe, which sort of works, it's not completely trashy, though it is sort of close to that I suppose.
If nothing else, there's a bit of a Domme vibe to this. Perhaps that might make for an interesting evening at a more adult Halloween party?
Something to think about…
Three out of five pitchforks.
It's not awful, it at least gave me pause to think.
Perhaps that's a good thing?
Tera